The Power of the Pearl
Long forgotten is the idea that pearls must be white and perfectly round. Today we intentionally seek out imperfect pearl components that feature more character to create unique jaw dropping designs that make a bold fashion statement.
Chicago Pearl Company offers an extensive array of beautiful designs (for women and men) that include everything from the classic single strand to unique one of a kind pieces that feature a variety of shapes, sizes, and colorful pearls. We often combine pearls with silver, leather, crystals, natural stones, suede, and rhinestones. Our goal is to create the perfect accessories that will be sure to compliment any wardrobe. 
Our creations couldn't be further removed from the traditional image of pearls, which is what makes this new wave of pearl jewelry so exciting. We are very excited about the current direction of pearls and the possibilities for more gender neutral pearl designs in the future. Men wearing pearls is about as Fashion Forward as it gets. And we have a feeling this classic look for men will be around for a very long time! .
Hey, PEARLS ARE COOL! 
Our Mission Statement: To provide over the top customer service while bringing you amazing pearl jewelry designs at the most affordable prices.
Chicago Pearl is a company inspired by YOU. Thank you for motivating us to continue this journey and make dreams come true. 
We believe strongly in giving back for all of the beautiful things that have come our way. We never take goodness for granted. Please scroll down for information on causes that are near and dear to our heart and see how you can join in and Pay It Forward with Beth and CPC.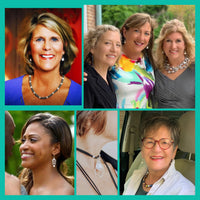 This is what fuels us!
The earrings are perfect! I love wearing your pearls and I always get compliments when I do. I will think of you whenever I wear your beautiful jewelry. Your company has been blessed with talent and a generous heart. 

Jennie M
Thank you so much for the beautiful pearls. I think I made Dad of the Year!

Bobby W
I loved my Christmas! Thank you for making it so special. I absolutely love the timeless styles from elegant to casual. They truly represent the uniqueness of the individuals who wear them.  Thank you! 

Linda D
Pay It Forward
Metastatic Breast Cancer
This Pay It Forward cause (METAvivor) is dedicated to one of the finest and funniest (SO funny!) beautiful inside and out humans to ever grace the planet earth. Lisa Nelson-Massie was in a league of her own. She loved hard and believed in fairness for all creatures great and small. She never met a stranger. She blessed us with her larger than life presence for 55 years and we are all so much better for knowing her.
METAvivor is dedicated to the specific fight of women and men living with stage 4 metastatic breast cancer.
METAvivor is led by a small staff and volunteers, most of whom are living with metastatic breast cancer. The donations are entirely dedicated to grants that fund the cutting edge research that will ultimately save lives.
*As we were composing this dedication to our precious friend Lisa, we lost yet another beautiful and one of a kind humans to MBC. Sweet Jeanne A. Forever in our Hearts. 
100% of the proceeds from the sale of our memory bracelets will be donated to METAvivor in Lisa and Jeanne's name.